Dear Temple friends,
our Temple founder and Spiritual leader Betty Tatalajski moved into spirit on June 10, 2021. we congratulate her on her graduation. She served spirit continually and touched so many lives all over the planet with her love, healing and gifts of spirit. We will miss her presence in the physical but as spiritualists, we know we will always be in contact with her. fly free Betty. We love you.
The Temple of Universality present active ministers will be having a service honoring our founder Rev Betty Tatalajski Sunday July 25th @ 10:00 a.m.. It will be on zoom ID zoom.us/j/95503721698 password 408785. We will also he having a public celebration of her life in Reid Park in the fall when it cools. You are all invited to that one. I'll post the information as time gets closer. Please pass this on.
Much love to you all, Rev. Kristine Fossatti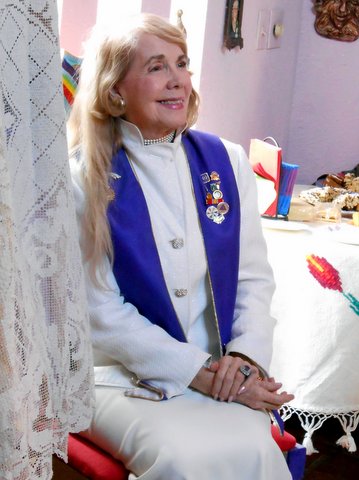 1. THE KINGDOM OF GOD IS WITHIN.

2. THE UNIVERSE IS ONE—VISIBLE AND INVISIBLE.

3. HEAVEN AND HELL ARE STATES OF CONSCIOUSNESS AND ARE
EXPERIENCED AS ONE OBEYS OR DISOBEYS DIVINE LAW.

4. THE LAW OF CAUSE AND EFFECT IS REAL AND JUST.

5. TRUTH IS TO BE FOUND IN ALL RELIGIONS.

6. THAT MAN SHALL KNOW THERE IS NO DEATH—ONLY
ETERNAL LIFE.

7. SPIRIT COMMUNICATION IS REAL AND IS GOVERNED BY
THE LAW OF ATTRACTION.

8. SPIRITUAL HEALING IS POSSIBLE AND IS FACILITATED
BY THE HOLY SPIRIT.

9. MAN HAS NEVER LOST HIS DIVINE NATURE; HE HAS
FORGOTTEN IT.

10. WE ACKNOWLEDGE ONE SUPREME BEING—THE CREATIVE
SOURCE.
Enjoy Exploring Through the temple resources Below